Jay Sin's Gape Lovers 6 (2011) [Split Scenes] [Full HD 1080p]
Jay Sin's Gape Lovers 6 (2011) [Split Scenes] [Full HD 1080p]
Title
: Gape Lovers 6
Evil Angel
Director
:
Jay Sin
Release Date
: 2011-03-25
Featuring
:
Phoenix Marie
,
Bobbi Starr
,
Aurora Snow
,
Dana DeArmond
,
Chastity Lynn
,
Madison Ivy
,
Ashley Fires
,
Proxy Paige
,
Alysa
,
Isabel Clark
,
Roxy Raye
,
Anita Hengher
,
Ramon Sutra
,
Billy Glide
Story
:A Buffet Of Gapes! Introducing Roxy Raye!
Three Dirty Lil Gaping Blondes Will Satisfy You Lust For Beauty... And Rimming!
This Is Gape Loving Big Leagues! Dirty Girl Aurora Happily Explores Dana's Big, Open Butthole!
Super Gape Slut Phoenix Shows Proxy... How to Work That Gape Wide... For A Big Cock!
Introducing The Amazing And Beautiful Roxy Raye To The World Of Gape Lovers! She Aces The Anal Test From Ms. Starr!
Prolapse Heaven! Roxy's So Cute And Nasty In Her First Scene Every!
Jay Sin's Gape Lovers 6 is an all-anal celebration of the most extreme ass play imaginable! Endless ass-to-mouth fun, girl-on-girl rimming, gigantic butt toys and spread-wide assholes makes for a nasty romp guaranteed to bring out the gape lover in all of us. First, beautiful professor Bobbi Starr introduces her star pupil, pretty Roxy Raye, who lets Ms. Starr deeply probe her spacious rectum with four fingers and, of course, her tongue. Roxy juices up Teacher's asshole with her saliva and pumps it wide with various intrusive toys.
Professor Bobbi reams Roxy with a huge glass phallus, exposing the student's colon; Bobbi licks Roxy's blooming ass meat. She pushes an entire apple up Roxy's back hole, then snacks on her protege's delicious, ass-flavored fruit! Dirty-talking Dana DeArmond joins Aurora Snow in an ass-eating, finger-banging buttfest. Dana jams Aurora's bunghole with a fat, red rubber toy and runs her mouth all over the slutty blonde's gaping rim. Aurora does the same using a grey dildo in Dana's stretched-out bottom, drooling in the massive hole and pulling it apart with both hands to see inside. While one slut is sodomized by Latin stud Ramon Sutra, the other sucks cock ass-to-mouth and slobbers into girlfriend's gape. Ramon spurts in Ms. DeArmond's open mouth; the nasty girls spit and kiss his goo back and forth.
Sexy Russian brunettes Anita Hengher, Alysa and Isabel Clark fill their butts with large, clear drinking glasses, inserted base-first, so their sphincters are propped wide to view. They expel the glasses one by one, and go to work on one another's gaping bungholes with enormous dildos and long tongues, eagerly tasting the insides of winking rectums. Isabel's and Alysa's tunnel-like anuses swallow a black monster toy the ladies can barely fit in their mouths; finally, they attach themselves at the ass with a giant anal double-dong as Anita licks the toy from the middle. Madison Ivy, Chastity Lynn and Ashley Fires are three girly blondes dressed in taffeta skirts and panties. The eager sluts enjoy a perverse ass licking three-way, probe rectums with a red dildo, and deeply tongue deep each other's yawning holes. By scene's end, each butt is gaping and glistening wet with drool.
Pert, pierced, shorthaired blonde Proxy Paige gets a workout with Phoenix Marie. The two big-assed sluts devise some strange stretching exercises, then strip out of their spandex to tongue-fuck each other's winking asshole. Fellow gym rat Billy Glide shows up and the cocksucking whores get busy. Proxy bobs her head on Billy's thick shaft while Phoenix sits on his face, then each girl takes a turn anally riding his pole as the other slut sucks dick ass-to-mouth and moistens the fucking slut's ass chute with her salivating tongue. After Billy shoots his jizz, the girls swap the gooey load. And in a mind-blowing DVD bonus, sweet Roxy Raye, dressed in a tight business skirt and fetish top, does a striptease for the camera. She follows with a shockingly hard-core solo scene involving huge toys and object insertions, a suction pump and a tube of lipstick... all leaving Roxy's poor anus prolapsed and swollen.
Gape Lovers 6 Scene#1-Bobbi.Star-Roxy.Raye
~WATCH PREVIEW~
>>DOWNLOAD<<
Photoset: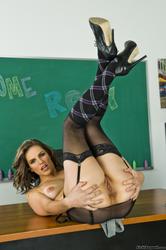 >>DOWNLOAD<<
Gape Lovers 6 Scene#2-Dana.DeArmond-Aurora.Snow
~WATCH PREVIEW~
>>DOWNLOAD<<
Photoset: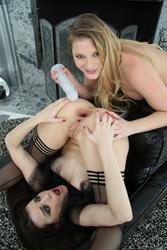 >>DOWNLOAD<<
Gape Lovers 6 Scene#3-Alysa-Isabella.Clark-Anita.Henger
~WATCH PREVIEW~
>>DOWNLOAD<<
Photoset:
>>DOWNLOAD<<
Gape Lovers 6 Scene#4-Madison.Ivy-Chastity.Lynn-Ashley.Fires
~WATCH PREVIEW~
>>DOWNLOAD<<
Photoset:
>>DOWNLOAD<<
Gape Lovers 6 Scene#5-Phoenix.Marie-Proxy.Paige
~WATCH PREVIEW~
>>DOWNLOAD<<
Photoset: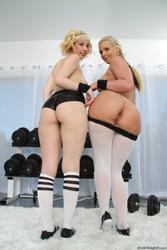 >>DOWNLOAD<<
Gape Lovers 6 Bonus Scene - Roxy Raye
~WATCH PREVIEW~
>>DOWNLOAD<<
Photoset:
>>DOWNLOAD<<
-------------------------------